Advantages of

Hosting with ElectriVa
Supereme Quality Charging Stations: Electriva Chargers are ARAI Certified and are 100% safe.
Generate Passive Income: Earn while people charge their EVs from your station.
No-Hustle Maintanence: ElectriVa will take care of all the maintenance issues for you.
Fast EV Charging for Best Experience: ElectriVa has fast chargers that takes only 30-45 minutes to charge an EV.
Promote Sustainability: ElectriVa chargers are integrated with solar net metering, making them environment-friendly.
We offer fully automated RFID-based, cashless EV Charging Stations
that are easy to install
Rapid charging for 4W:
Infinity series 60kw – 180 kw DC Charger
with Dual gun CCS2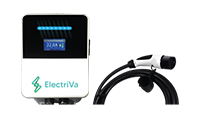 Fast Charging for 4W:
Nimbus series 7KW- 22 Kw AC Charger
Slow charging for 2W, 3W and 4W:
Shunya series 3.3Kw AC Charger
Our cloud software and mobile application are integrated with the most advanced, user-friendly technology, making it simple to operate any EV Charger through a cashless transaction.
HOST WITH ELECTRIVA
join us